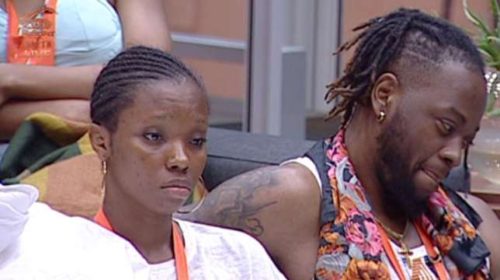 Few days ago, a clip of Teddy A and BamBam having sex in the toilet, went viral, with many condemning and others hailing the housemates. [
See here, if you missed it
]
Nigerians reacted of course, and an alleged member of the church BamBam attends revealed that the latter is a choir member in her church, and her parents are respected people in the church.
In a new development, a family friend of BamBam has revealed in some serious of tweets that her parents are furious and they want BamBam home immediately.
Here are the tweets;
So I wasn't going to talk on this cos I do not want these dumb ass Nigerian blogs quoting me… Bamike's family and mine go all the way back and I can confirm to you that her parents who were very upset yesterday have forgiven her. However..
Her father has summoned a meeting with The people at multi choice and the payporte boss to bring her back. They told him she is an adult so it will habe to be voluntarily on her part. Teddy A's mothers also reached out to her mother few hours ago, Begged Bamike's mother on Bam's behalf and on Teddy's.
Teddy A and BamBam caught having sex
She says he will date her on the outside, she will make sure of this. They are willing to move forward as long as there is no sex again. They payporte boss promised Bam's protection henceforth.
Her parents do not watch Big brother and have refused to watch the clips. So they don't know what exactly is in. I maintain that Bamike is a very decent girl who shouldn't be judged by this. Until she confirms there was penetration, there wasn't.
Bam's dad still wants her out so we will see if the protection promised will stop him from trying to get her out.
BBNaija: BamBam's Church Member Reacts To Her Toilet Sex With Teddy A.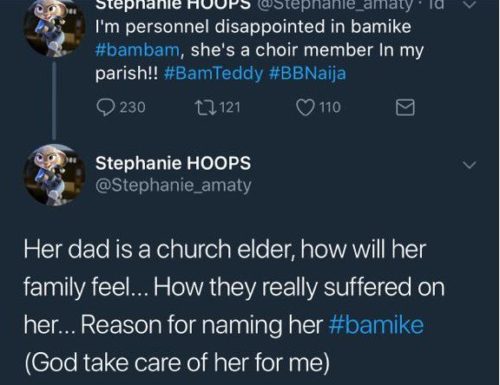 People can't seem to stop talking about Teddy A and BamBam's toilet rendezvous – with some who are quite cool with their intimacy and others not so cool that they did it on live TV.
We brought you videos of Teddy A celebrating after his intimate act in the toilet with the "church girl".. and also BamBam "inspecting" her private areas. [
See that here
]
Now, in a new tweet, a lady, Stephanie, has taken to the social media platform, to say she's personally disappointed in Bamike (Her Real name), because she's a choir member in her parish, and her father is an elder in the church.
Teddy A and BamBam caught having sex
Here's her tweet:
"I'm personally disappointed in bamike #bambam, she's a choir member in my parish!! #BamTeddy #BBNaija"
"Her dad is a church elder, how will her family feel? How they really suffered on her… Reason for naming her #bamike (God take care of her for me"